A book I just read (short story-85 pages) is called Ouija. It is about a highschooler who gets an Ouija Board as a birthday present. The boy is a loner who pines for a girl. He turns to the Ouija for help. Help comes but at a price.
Ouija by James Melzer.
 
I beleve no horror movie list can be complete without The Exorcist. I first saw this film when it came out in 1973. I was at Keesler Air Force Base in Biloxi Mississippi. A friend took me to see it. When I walked into the theater, I had no idea what the name of the movie was let alone what genre. When it started, I remember thinking, oh a desert movie – boy was I wrong.
Since then I have rewatched it numerous times. I mean who wouldn't want to see Lina Blairs demon made-up face?
I have a question for everybody.
Are you a reader, writer, or both of Horror?
And if you do write – what kind of horror and what drew you to this genre?
If you are a reader, who are some of your favorite authors? And why?
Last question, about this blog, what do you want from it, how can I make it better?
 
It is time for another Horror blog post.
This week I'd like to highlight another short story. This one is called The Haunting of Seafield House (The Spirit Guide Book 1) by Caroline Clark, published by Spooky Night Books, March 30, 2017.
Although this story had a few errors which I believe, because being a short story of 208 pages should have been caught in editing, they were not enough to put me off of the story. This is another ghost story – as you can tell, I'm in my ghost story phase.
The teaser found on Amazon states (errors and all), "Gail Parker never believed in ghosts and yet she knows her boyfriend does. Jesse saw ghosts as a child and has spent the last decade trying to reconnect with spirits. Every haunted house he has investigate has been a hoax or he has found a logical explanation for the phenomenon. That was until he found Seafield House."
This one is again .99 on Amazon for Kindle, $8.99 paperback. https://smile.amazon.com/gp/product/B06XY9BW98/ref=oh_aui_d_detailpage_o03_?ie=UTF8&psc=1
Movies
Many times sequels are let-downs of the first story. Thankfully, in my opinion, this is not the case for The Conjuring series. Conjuring 2, I felt was better than the first. It involves the creepy nun again. It encompasses many situations found in many horror stories; Ouija boards, ghosts, demons, and possession.
Again we see Patrick Wilson as Ed Warren and Vera Farmiga as his wife, Lorraine.
"Renowned demonologists Lorraine and Ed Warren travel to north London to help a single mother raising four children alone in a house plagued by malicious spirits."
As always, I invite you to share your own favorites.
 
Welcome to this first post on my Horror blog.
In this first post, I thought I would talk about a short story I read and one of my favorite horror movies.
The House Next Door: A Ghost Story, by Darcy Coates, is a 282 page eBook published by Amazon Digital Services, LLC I loaded on my Kindle. This is the first time I have read this author, but will not be the last.
This book captured my interest and didn't let me go until the end. The characters were relatable. The pace was spot on with dramatic scenes presented at a slower pace. At first, I thought, oh great another broken down haunted house, but Darcy was able to twist the tale uniquely.
The book was well worth the .99.
Have you read a horror story you'd like to share?
My favorite movie. This is a hard one because I have so many.
But, to start, I'd have to say The Conjuring directed by James Wan and starring Patrick Wilson and Vera Farmiga. The film was released by Warner Brothers on July 19, 2013, and has made 319.5 Million.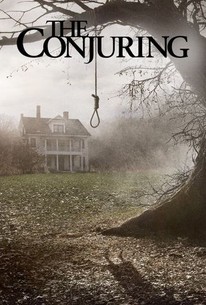 In the movie, we are introduced to Ed and Lorraine Warren real-life paranormal investigators. There is one scene, of many, that I felt was especially effective for a horror. The mother is locked just inside the door leading to the cellar. Something happens that I thought brilliant. I won't say what it is in case you have not seen the movie.